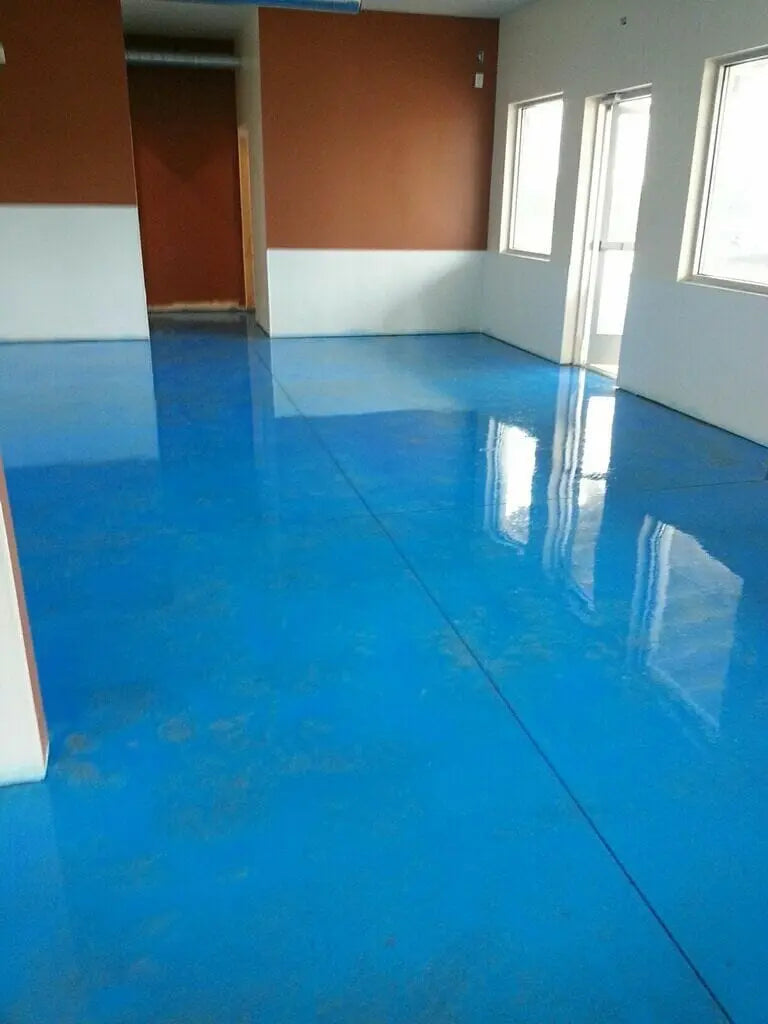 Best Fast Cure Time Concrete Floor Sealer - Polyaspartic 85
Fast Ship:
Usually takes 1-2 business days to ship out.
Ships from Illinois
(Click for average Ground delivery map
)
Ships via FedEx/UPS only
Best Fast Cure Time Concrete Floor Sealer - Polyaspartic 85
When you need an industrial-grade coating that can be returned to service in the shortest amount of time, you want this product!  The new zero VOC formula is designed to be easier to use for installers. This high solids coating has an extended cure time and still allows a quicker return to service than epoxy and urethane. Polyaspartic 85 is a great all-purpose final coat on many projects including garages, basements, commercial flooring and concrete countertops.
Why Use This Coating Over Others?
Fast cure/return to service time.  Very thin, durable coating.  It's easier to apply because it has a longer pot life (time to use it once mixed) and has zero VOCs (smell), can be applied VERY thin if you need to, and is a super durable coating.  Polyaspartic85 can be used right over your plain old concrete once properly roughened/sanded to @ 100 grit, as well as stained concrete, and as a durable top coat to your cool epoxy/metallic epoxy floor.  PolyAspartic 85 also excels as a top coating on quartz sand and flake broadcast epoxy coatings, as it will go on very thin over them, retaining some of that 'bumpy' texture from the broadcast. 
This coating IS also good for outdoors, yes!  Countertops, concrete furniture, tables, and even floors.  It will be slippery when wet though, so use anti-slip in the sealer before applying if slipping is a concern.  
If you have a few extra days to let your sealer coating cure, and need excellent chemical protection and a slightly thicker final build of the coating, please consider AU-85 (sold here)
Features of Polyaspartic 85
Pot life of 45 minutes
Dries in 4-6 hours for light use (foot traffic).  Full cure 1 week.
Simple-to-use, two-part sealer provides a durable, long-lasting, high-gloss finish
Exhibits the best of abrasion, chemical, and heat resistance compared to other decorative coatings and sealers
Penetrates and beautifully enhances decorative color designs
Sold by 3 part kit (2 parts A and 1 B)
Coverage ranges from 200-300 sq ft per gallon depending on coating application
Serves as excellent high-gloss, ultra-durable finish for concrete countertops
Color Enhancing.  Will bring out the color of your concrete (similar to how it looks when wet before being sealed)

Polyaspartic 85 can be tinted!

  Add RZ Tints (sold here) to pigment this coating product.
Don't want high gloss?  Try adding Matting Agent (sold here) to reduce the gloss level of Polyaspartic 85 (great for hiding dirt on a floor)
Specifications of Polyaspartic 85:
Can be applied as 1 thin coat, although it's best to always apply 2 thin coats @ 4-24 hours apart (longer than 24 hours between coats requires 7 day wait and then sanding surface before 2nd coat)
Coverage (per application coat):

3 Quart Kit: 150-225 sq. ft.
3 Gallon Kit: 600-900 sq. ft.
15-Gallon Kit: 3,000-4,500 sq. ft.

Download:

 

Polyaspartic-85 Instructions TDS
Great Product for Garage Floor
I used it as a top coat for my garage floor epoxy project and it looks great! Did some research before doing the project and this product was highly recommended by some of the professional companies that do garage floors. The product was easy to use, but it dries VERY QUICK so consider making smaller batches. I noticed later some of the last areas I did with each batch were a bit wavey since it was drying as I was working with it but that was 100% my fault and inexperience. Just a warning, when they say short pot time, they mean it. Shipping was super quick! Expressions LTD Customer service was very responsive and professional too when I had a few questions in advance of using the product to ensure I used it correctly.